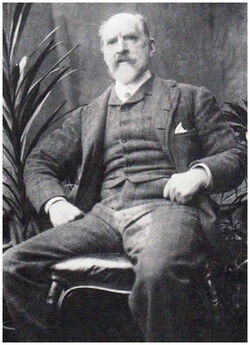 John Moyr Smith (12 March 1839 – 1 December 1912) British artist and designer, noted for his work on ceramic tiles.
Smith was born in Glasgow and attended Glasgow School of Art from November 1857 and became president of the Glasgow Architectural (Assistants) Association. In 1864 he moved to Manchester as assistant to the gothicist Alfred Darbyshire with whom he remained for three years. It was probably during this period that Smith first became acquainted with the artist and designer Henry Stacey Marks. In 1866 Moyr Smith moved to London as assistant to George Gilbert Scott, but by that date he had already established a reputation as an illustrator in Tom Hood's 'Fun' magazine and by about 1867 he had commenced 'temporary service' for Christopher Dresser and begun supplying designs to the Arthur Silver Studio. From 1880 he was editor of the magazine 'Decoration in painting, sculpture, architecture and art manufactures' published by Sampson Low. From about 1870 Moyr Smith had an extensive commercial practice in the decorative arts, his main clients being the cabinetmakers Collinson & Lock and Cox & Son, the piano-maker Broadwood & Son and the tile and ceramic manufacturers Minton & Co (later Minton Hollins & Co), W B Simpson & Sons, and Maw & Co. In person Moyr Smith was tall, bearded and red-haired, and according to D S McColl 'fiery in temperament'. He appears to have worked alone without staff. He never married, and in his earlier London years his household was managed by his mother and unmarried sister Christina.
References
Edit
Archives and Collections - The Glasgow School of Art
Stapleton, Annamarie - John Moyr Smith 1839-1912 A Victorian Designer - Richard Dennis - 2002
Trending pages
All items (21)
Community content is available under
CC-BY-SA
unless otherwise noted.